Accreditation
Air Hygiene, as an Air Emission Testing Body (AETB) is accredited to ASTM D7036 (Standard Practice for Competence of Air Emission Testing Bodies) from A2LA and the Stack Testing Accreditation Council (STAC).
Air Hygiene is committed to the highest quality of stack testing services. Our efforts are to ensure continuous compliance with testing requirements that provide exceptional expertise for the benefit of our customers. As a part of our QA/QC plan, Air Hygiene is committed to a rigorous training program and participates in accreditation by 3rd party auditors and state/federal agency programs. Air Hygiene ownership believes in training and demonstration of capabilities through testing and performance.
25 QSTI Stack Testing Managers

50 Mobile Testing Labs
10 FTIR Mobile Testing Racks

(including 3 STARBOOST SYSTEMS (< 91 ppb formadehyde MDL)

100 Isokinetic Testing Trains

700 Specialty Calibration Gases

6,500 ft. Heated Sample Lines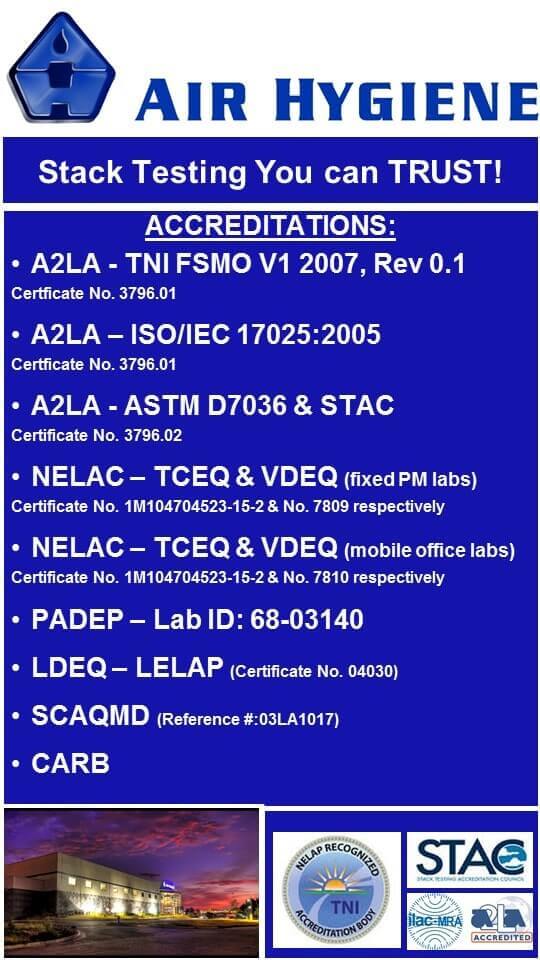 ---
ASTM D7036 Accreditation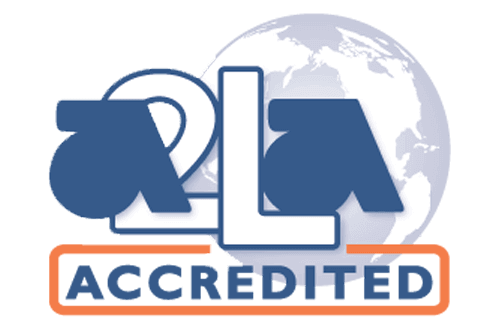 ---
TCEQ NELAP Accreditation
Air Hygiene is registered with the Texas Commission on Environmental Quality.
2022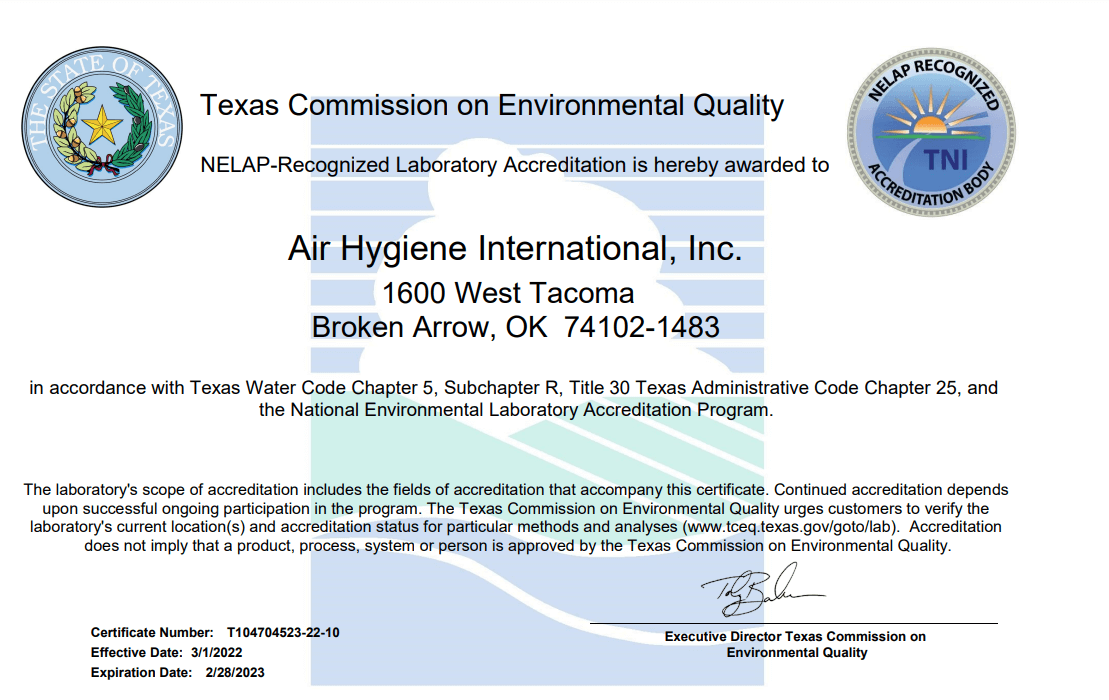 2022 Mobile Lab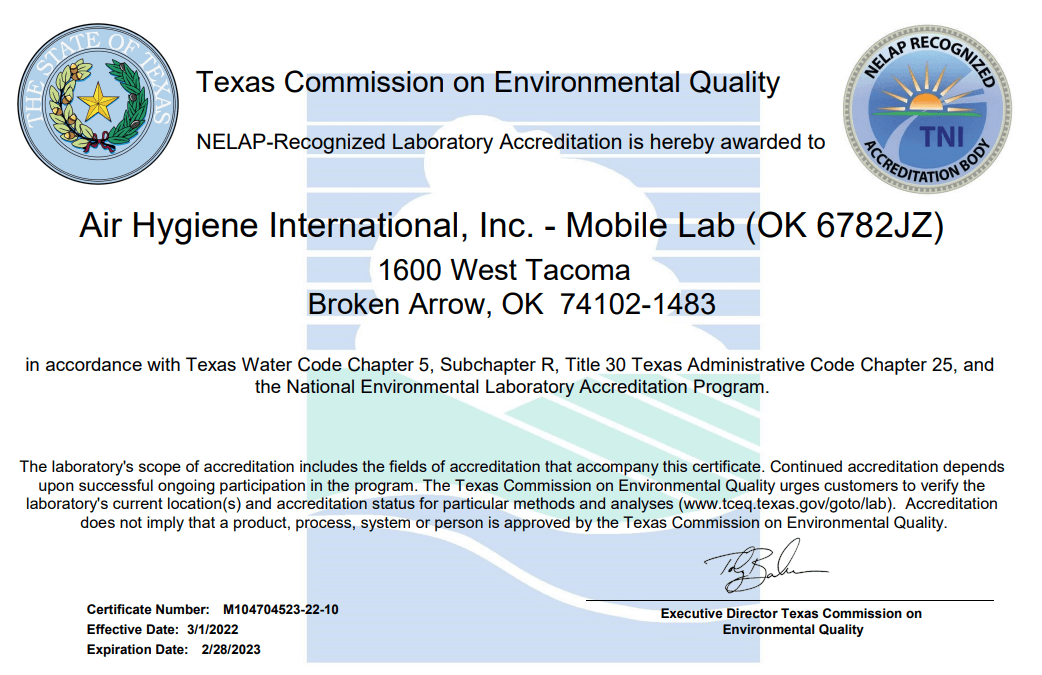 ---
---
VELAP Accreditation
Air Hygiene Corporate is registered with Commonwealth of Virginia Department of General Services.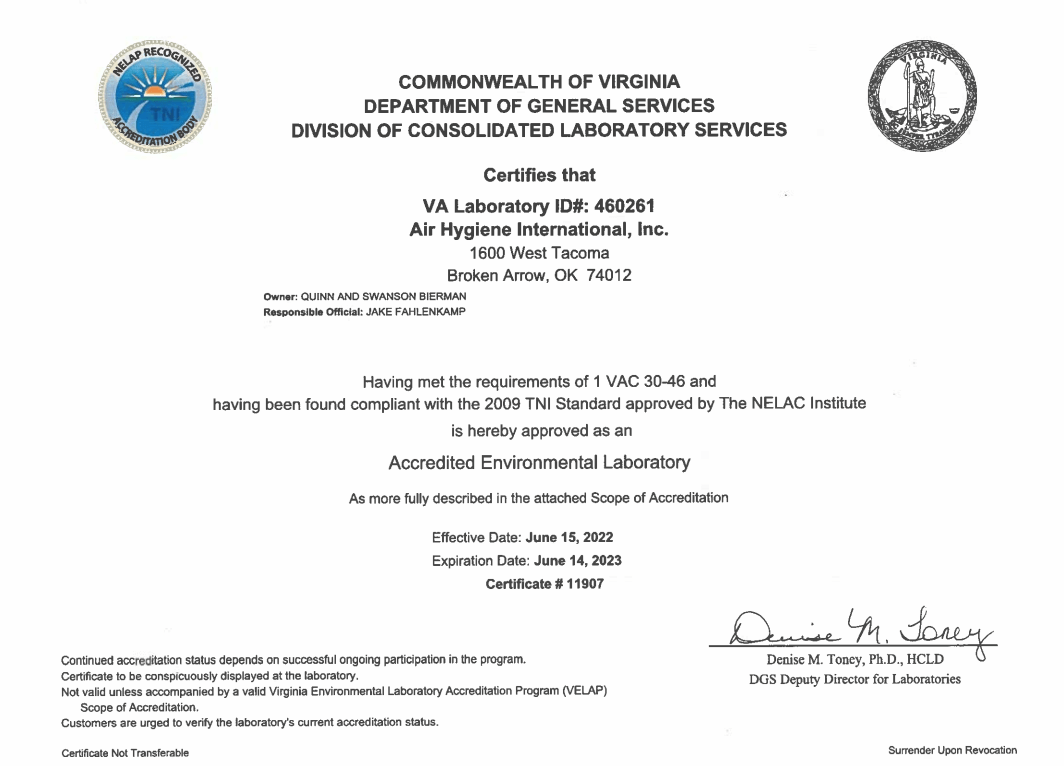 Air Hygiene Mobile Lab is registered with Commonwealth of Virginia Department of General Services.
---
Louisiana Department Of Environmental Quality (LDEQ) Accreditation
Air Hygiene is certified by the Louisiana Environmental Laboratory Accreditation Program (LELAP) to perform stack testing throughout the state. Our LELAP certification includes over 40 analytics to meet your testing needs.
---
South Coast Air Quality Management District (SCAQMD) Approval
Air Hygiene has approval under the SCAQMD's Laboratory Approval Program to perform stack testing in the district. We have a long history of testing throughout California.