By Industry
AIR HYGIENE INTERNATIONAL INC. performs a variety of stack emissions testing services for utilities, including turbines, boilers, Continuous Emission Monitoring System/PEMS, duct burners, and generators.
Fuel types include: Natural Gas, Coal, and Fuel Oil.
Industry types include: Power/Energy, Gas Compression, Cement, Chemical, Refineries, Manufacturing.
Power Industry
Power plants continue to be built, modified, and improved across the United States. These or modified facilities are at the forefront of clean energy. Emission rates and limits continue to decrease. These units are very efficient, environmentally friendly, and meet the stringent requirements set forth by the Environmental Protection Agency (EPA) and associated state agencies. AIR HYGIENE has developed a unique strategy to help owners demonstrate compliance with testing solutions for difficult sampling locations to meet complicated requirements.
AIR HYGIENE personnel have over two hundred (200+) years of stack testing experience on combustion turbines, coal fired boilers, gas fired boilers, landfill gas, wood fired, & diesel fired engines across the United States. AIR HYGIENE has 15 combustion labs serving all 50 states from one corporate office in Broken Arrow, OK and six (6) additional field offices located in:
Phoenix, AZ
Chicago, IL
Shreveport, LA
Las Vegas, NV
Pittsburgh, PA
Broken Arrow, OK (Headquarters)
Austin, TX
Fort Worth, TX
Houston, TX
AIR HYGIENE has tested plants ranging from 50 to 2,000 megawatts in both simple and combined cycle operation with controls including:
Selective Catalytic Reduction - Ammonia injection
Steam/Water injection
Sprint injection
Dry Low NOx burners (DLN)
AIR HYGIENE has completed testing at over 500 plants on 2,500 combustion turbines, 100 coal fired boilers, 100 gas fired boilers, and other sources representing 250,000 plus megawatts (MW). AIR HYGIENE has proven, through our numerous projects, that we can be relied upon for uncompromised quality, service flexibility, and loyalty to our clients wherever the job and no matter the situation.
Types of Air Emissions Testing for the Power Industry:
Emissions mapping, optimization, and performance testing.
R&D emission data research and turbine optimization.
40 CFR Part 60 Subparts KKKK and GG - Turbine Compliance Testing.
40 CFR Part 60 Subpart Db - Steam Generation Unit Testing.
40 CFR Part 75 - Acid Rain Classified Equipment Testing.
RATA Testing on Continuous Emission Monitoring System for Nitrogen Oxides, Carbon Monoxide, Sulfur Dioxide, Hydrogen Sulfide, Oxygen, Flow, and Carbon Dioxide.
Initial permit compliance testing for PM, PM-10, PM-2.5, Sulfur Dioxide, Acid gases, Mercury, Nitrogen Oxides, Carbon Monoxide, exhaust flow, moisture, Oxygen, Carbon Dioxide, Ammonia, Formaldehyde, other HAPs.
Oil And Gas
AIR HYGIENE INTERNATIONAL INC. performs a variety of stack emissions testing services for natural gas transmission companies. Sources include turbines, reciprocating engines, glycol dehydrators, and generators.
Types of Stack Testing Services for the Oil and Gas Industry:
Periodic monitoring for NOx, CO VOCs, formaldehyde, HAPS
Engine Compliance Testing to meet federal and state requirements (40 CFR Part 60 Subpart JJJJ, 40 CFR Part 63 Subpart ZZZZ (RICE MACT), Permit by Rule, Operating Permit Compliance)
(Regulation 12, Rule 12) 40 CFR Part 60.18 for flares
40 CFR Part 63 Subpart HH for glycol dehydrators
Pre and Post Catalyst testing for pollutant destruction efficiency
Engine performance testing to verify manufacturer's emission guarantees
Research and Development (R&D) emission data research and engine optimization
Initial permit compliance testing for PM, PM-10,PM-2.5,SO2,NOx,CO, exhaust flow, moisture, O2, CO2, Formaldehyde, other HAPs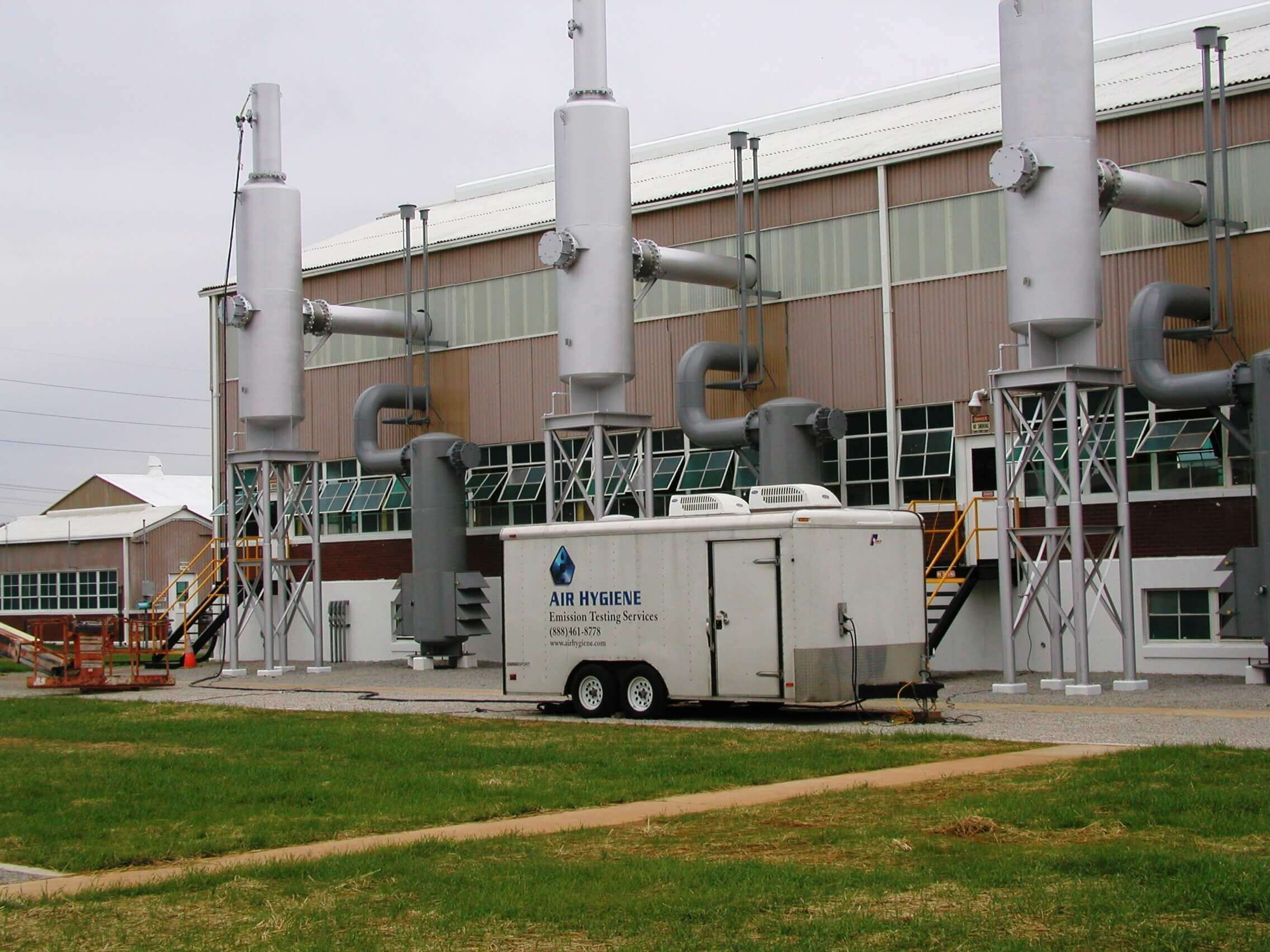 AIR HYGIENE can provide the following advantages for the natural gas industry during mobile lab tests utilizing our stack testing trailers:
On-site reports and test data
Our own power supply
F-Factor calculation data sheet
Experienced engine testing personnel
Site testing upon request within 5 working days
Flexible testing schedule to meet needs of client
Free technical support regarding emissions testing
Electronic reports provided on CD or e-mail upon request
EPA Protocol 1 certified Gases for precise calibration
Five mobile testing labs which may be used for your project
Flexible testing ranges (i.e. CO 0 - 10,000 ppm, NOx 0 - 5,000 ppm)
Cement & Manufacturing
Air Hygiene continues to perform stack emissions testing for the following plants as well:
Asphalt
Pulp & Paper
Glass Plants
Chrome Electroplating
Metal & Non-metallic Mineral Processing
Printers
Chemical Plants
Cement Kilns
Solid and Hazardous Waste Incinerators
Manufacturers