Recruiting
Why Air Hygiene is the Best Career Choice
Great Salary or Hourly Rate
Great Benefits 100% paid
Travel with all expenses paid
Learn Skills in a Unique Industry
Promotions and upward mobility
Become Crew Leader in 2 years or less
What can you expect or need to do at a job at Air Hygiene
Extensive travel (>200 nights in hotel) - all travel paid for
Working outside at variety of industrial sites
Pass Drug Test to meet DOT requirements
Need valid/current drivers license
Loading & unloading equipment
Driving truck and lab
---
A Little About Us
Air Hygiene International, Inc. (Air Hygiene), a professional service company providing air emission testing services, was formed by brothers Quinn A. Bierman, President and R. Swanson Bierman, Vice-President in January 1997. Native Oklahomans, the brothers founded the company on values that were established growing up in rural western Oklahoma on the family farm.
Air Hygiene's original office was a 400 square foot back bedroom and garage. Still, Air Hygiene performed services representative of a much larger company by embracing the rapidly changing field of computer and instrument technology. Efforts were made with the first testing laboratory to use the newest, cutting edge hardware, software, and instrumentation.
Air Hygiene is known for providing a customer driven approach to every testing job, which often includes 24-hour testing, rush on-site analysis and reports, and the highest quality testing data available. Our clients are frequently under high pressure to complete large dollar projects on time, and Air Hygiene strives to ensure they meet these deadlines, with Second-to-None (2-2-0) testing services.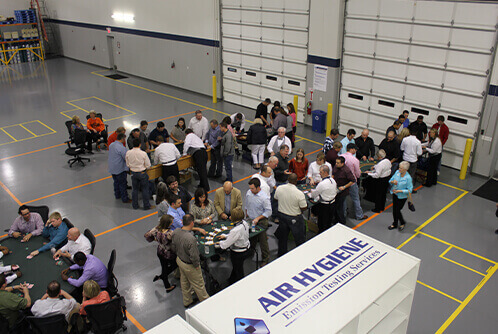 ---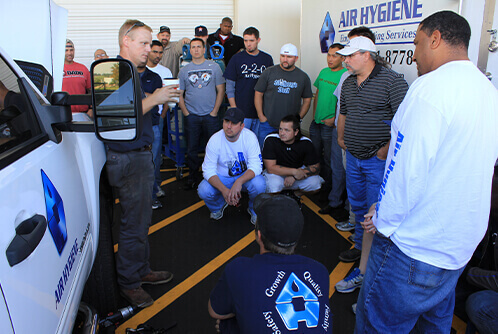 General Job Duties
Be the "hands of the test" on the stack.
Stay on a stack during the sample test.
Set up and tear down equipment on-site.
Keep trucks and trailers stocked and clean.
Set up and tear down testing equipment on site.
Perform maintenance on equipment in the shop and on-site.
Learn the proper way to conduct on-site test of stationary stacks.
Travel to and from job site, including driving responsibilities under DOT.
Migrate to the testing trailer and learn the different analyzers and testing methods used on site.
---