On-Site Lab Services
Air Hygiene has been providing on-site data for PM/PM-10/PM-2.5, NH3, HCl, and Hg since January 31, 2014 and has TCEQ-NELAP accreditation!
TCEQ/NELAP Certificate
Certified On-Site Laboratories
Our On-Site Laboratories provide data within 4 hours for Particulates to ensure real-time results for MATS requirements and more including:
PM, PM-10, PM-2.5!
Total Mercury (Hg)!
Speciated Mercury (Hg)!
Ammonia (NH3)!
H2SO4/SO3!
HCl and more!
AHI's On-Site Laboratories have already been utilized by numerous clients for projects like:
Hg, HCl, and PM preliminary MATS rule testing!
Analyze client samples for audit check comparison studies!
PM, Hg, HCl, and NH3 RATA testing per 40 CFR Part 60 & 75!
PM correlation testing versus a PM CEMS for on-site rush data!
NH3 and PM rush/on-site analysis for construction gas fired power plant!
Provide cleanup space with temperature/humidity control for low level emission analysis!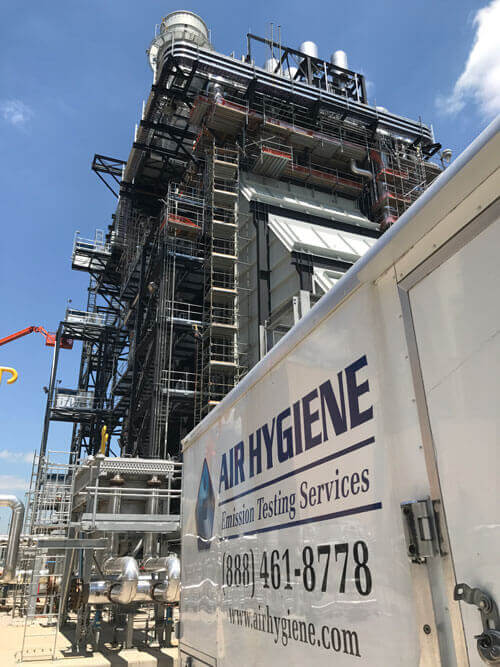 ---
---
Air Hygiene has over thirty-five (35) emissions testing labs, capable of testing real-time pollution data as well as providing remote transmission of data and continuous, 24 hour testing services to meet the needs of our wide variety of clients.
Our pricing and flexibility are second to none. Air Hygiene takes pride in our testing efficiency, incredible service, and flexibility.
Please contact us for more information about scheduling, pricing, and strategy for your next emission testing project! Click here to view our Mobile Labs brochure.